Newsroom
Established in 1952, Randolph-Brooks Federal Credit Union is a full-service financial cooperative whose mission is to improve members' economic well-being and quality of life.
For media inquiries, please contact our Media Relations Team at press@rbfcu.org.
We are proud to be the trusted financial partner for a growing membership. This RBFCU Media Kit gives a few facts and figures, and describes how the credit union became what it is today.
For 70 years, we've seen the unexpected and have adjusted to it. We are a strong organization, and RBFCU stands with you as your trusted financial partner. Our 2022 financial results give us continued confidence. When we started the year, we had just become the ninth credit union in the U.S. to surpass 1 million members, and we've just kept growing.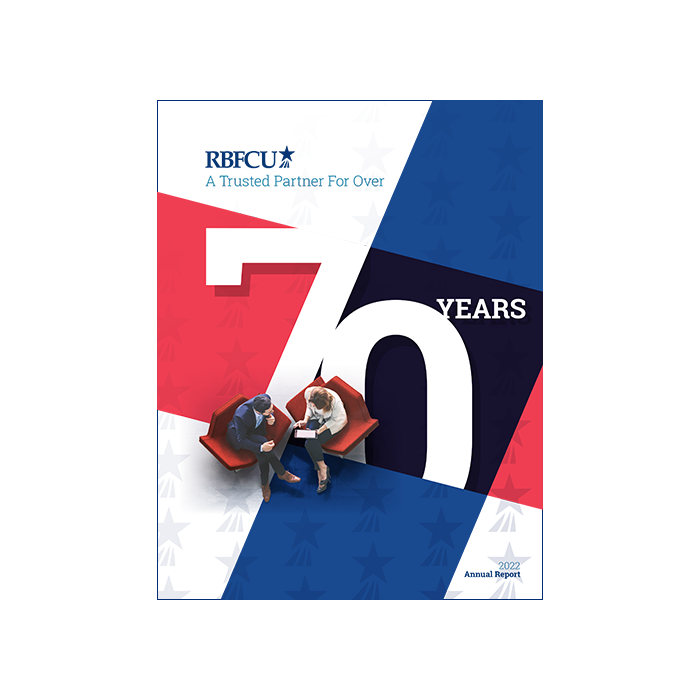 Throughout this magazine, you'll find reasons why members do business with RBFCU. Read more to find out what RBFCU can do to help improve your economic well-being and quality of life.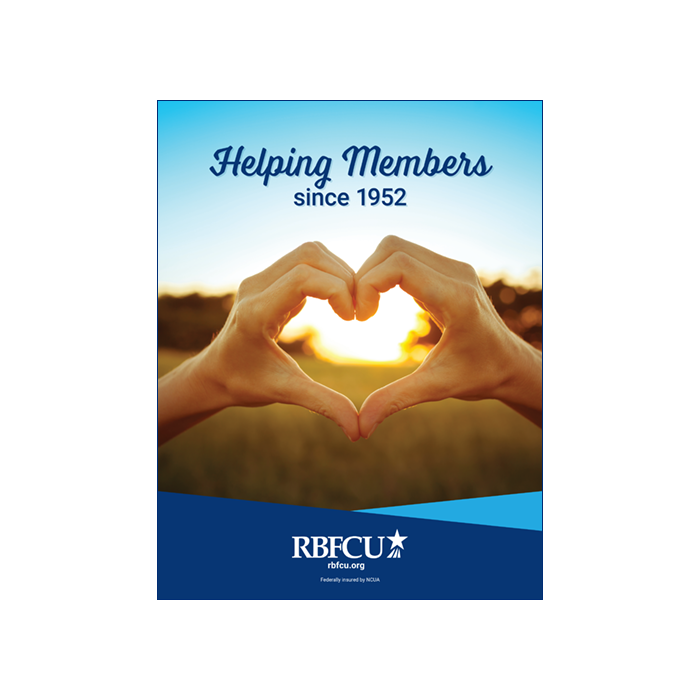 I am a reporter with a media inquiry. Who should I contact?

For media inquiries, please contact Salvador Guerrero, Assistant Vice President – Corporate Communications & Public Affairs, at sguerrero@rbfcu.org or 210-637-4287.

When is RBFCU's annual meeting?

The annual meeting is scheduled for the end of March each year. Watch member communications for date, time and location details.

Credit unions are not-for-profit cooperatives, owned by their members who save and borrow there. We exist to serve our members, not to make a profit, so credit unions do not issue stock or pay dividends to outside stockholders. Instead, we return our earnings to members by providing lower loan rates, generally pay higher dividends on deposits and charge lower fees.

Credit unions are a democracy. Each credit union member has equal ownership and one vote, regardless of how much money they have on deposit.

Every credit union is governed by a board of directors, elected by and from the credit union's membership. Board members serve voluntarily and receive no compensation.

Credit unions cannot serve the general public; instead, people must qualify for membership. People are eligible for credit union membership through their employer or organizational affiliations like churches or social groups, or a community-chartered credit union.

Credit unions provide beneficial education to their members so they can become better educated consumers of financial services. We not only focus on our adult members, but work to give our youth and young adults the skills they need to become financially savvy.

How do I qualify for membership with RBFCU?

There are several ways to qualify for membership with RBFCU. Common ways to qualify for membership include your employer, place of worship, community organization, neighborhood or school. You may also qualify through immediate family members who are part of the credit union (spouse, children, parents, siblings, stepchildren, adopted relatives, etc.). You can complete a short online application to see if you qualify for membership.

If you are unable to qualify through any of the options listed above, you may contact us and our Member Service Specialists can help you determine if there are additional opportunities to qualify.

Why do I have to qualify for membership?

Unlike banks that are open to anyone, laws require credit unions like RBFCU to have a defined field of membership, which means you have to be a member to access the products and services credit unions provide. There are a variety of ways to qualify based on where you work, live, worship or attend school. When you become a member of RBFCU, you take advantage of lower loan rates, higher dividends on deposits and lower fees.