Texas Air Force Association Honors RBFCU as Top Civilian Organization
Business Development Officer also Recognized
LIVE OAK, Texas (Sept. 25, 2020) — The Texas Air Force Association has named Randolph-Brooks Federal Credit Union (RBFCU) the Civilian Organization of the Year Award and also recognized Business Development Officer Jenifer Florence with the association's Medal of Freedom Award.
These awards were based on a nomination through the North Texas-based Seidel Chapter of the Texas AFA and reflects RBFCU's commitment to the North Texas region as well as military-associated communities throughout the state.
In making the nomination to the Texas AFA, officials with the Seidel Chapter stated "RBFCU has been a godsend to the Seidel Chapter in many respects." RBFCU has enjoyed a partnership with the chapter for the last four years. Officials with the chapter also noted their checking account with RBFCU, "unlike bank checking accounts," earns a monthly interest and is "user friendly; RBFCU is always ready to help whenever we call upon them. They epitomize the qualities we seek in our partners."
The Seidel Chapter credited Jenifer Florence for helping with events and also finding ways to generate significant interest from others in the chapter's Youth Leadership Conference and educational efforts at the University of Texas at Dallas. She has presented information on financial topics and has served as a panelist during conferences for high school students on basic money management and real-life examples of the credit union difference.
"Jenifer has been an ardent supporter of our chapter for several years," according to the nomination. "She personally services our chapter in ways that go above and beyond. Our student participants all spoke very highly of her attitude and how much they enjoy her story."
The Seidel Chapter of the Texas AFA concentrates its efforts on supporting scientific, technical, engineering, and mathematics (STEM) education. For more information on the chapter, click here.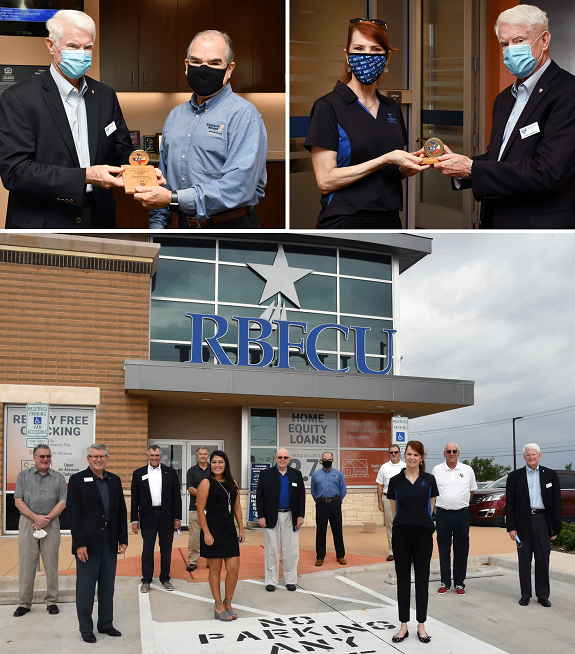 About Randolph-Brooks Federal Credit Union
Established in 1952, Randolph-Brooks Federal Credit Union is a full-service financial cooperative whose mission is to improve members' economic well-being and quality of life. With assets exceeding $15 billion, RBFCU serves more than 1 million members at 62 branch locations throughout Texas.
Media Contact
Salvador Guerrero, Assistant Vice President-Communications
sguerrero@rbfcu.org
210-637-4287