RBFCU Mobile App
Mobile banking made easy
With the RBFCU Mobile app, your personal finances are easier to manage than ever before. Whether you need to check your balance, find an ATM or deposit a check, the RBFCU Mobile app helps you to do it all from wherever you are.
The RBFCU Mobile app is available on the App Store® for Apple® iPhone® and iPad®, and on Google Play™ for Android™ devices. Download the app today!
Convenience comes standard with the RBFCU Mobile app
Use the RBFCU Mobile app on your smartphone or tablet to:
Make an RBFCU Mobile Deposit™
Deposit checks on your time — just take photos of the front and back of your check and submit.
Manage Cards
Use the "Manage Cards" feature to activate, freeze or replace your debit or credit card; report it lost or stolen; request a new PIN or Balance Transfer; and set alerts or travel notifications on your account.
How to make a Mobile Deposit using the RBFCU Mobile app
---
1. Get started
Sign in to the RBFCU Mobile app, and tap "Mobile Deposit" at the bottom of the screen.
2. Sign
Endorse your check by signing your name on the back, then add "For mobile deposit only," your account number and the date.
3. Select account
Using the drop-down menu at the top of the screen, select the account where you'd like to deposit the check.
4. Snap!
Tap the "Front" and "Back" camera icons to take photos of the front and back of the check using your mobile device's camera, and follow the prompts.
5. Verify
Once you've taken photos of the check, make sure that the deposit amount shown in the app matches the amount written on your paper check.
6. Complete!
---
Use the RBFCU Mobile app to ...
Deposit checks using Mobile Deposit
Review your loans and make payments on the go
Check RBFCU's current rates
Open accounts
Apply for loans
Pay your bills online
Monitor your accounts and transactions with customized email and text alerts
Find RBFCU branches and surcharge-free ATMs
Contact RBFCU for assistance by chat, secure message, phone or email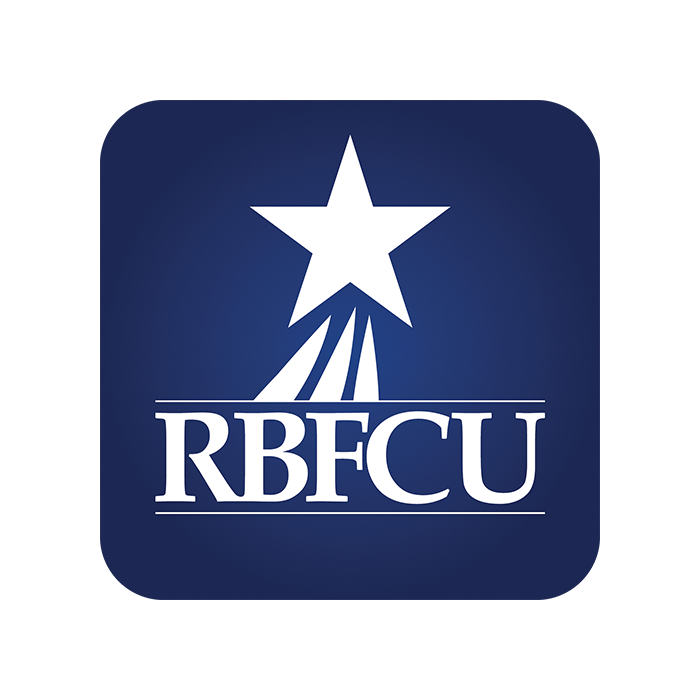 If you're having issues with the RBFCU Mobile app, we're here to help. Our troubleshooting page offers solutions to common problems members experience with signing in, biometric (Fingerprint, Touch ID, Face ID, etc.) usage, usernames and passwords and more:
What's happening to the old RBFCU Mobile app?

Starting Tuesday, Nov. 9, 2021, you will no longer be able to use the old version of the RBFCU Mobile app.

This means you will need to download the new RBFCU Mobile app to continue banking with RBFCU from an app. Your information always remains secure with the new RBFCU Mobile app, and with the old version until it is discontinued.

RBFCU is no longer making updates to the old mobile app. As operating system upgrades are released for your smartphone, the old app's functionality may be impacted and will not be supported.

I tried the new RBFCU Mobile app, but went back to the old one. Has it improved?

The new RBFCU Mobile app was introduced to members in early 2020, and since then, we've made weekly updates that fix issues that you've reported, add features that you've said you missed, improve performance and enhance the overall member experience.

If you experience issues with the new RBFCU Mobile app, please email mobileapp@rbfcu.org for assistance. You can also check our Mobile App Troubleshooting page for answers to common questions.

Where is the widget for the RBFCU Mobile app? How do I install it?

The widget for the RBFCU Mobile app for both Android and Apple devices is still in development and will be included in a future release.

Who is eligible for Mobile Deposit? How do I know if I am eligible?

To check if you are eligible for Mobile Deposit, sign in to your Online Banking account. On the "Account Summary" page, click on the "I Want To..." drop-down menu (three vertical dots to the right of your account's name). Members who meet the requirements will see "Mobile Deposit" listed.

Members can also see if they qualify by going to their "My Profile" icon in the top right corner of the page. There, members will select the "Member Services" link. Under the "Mobile Deposit" section, members will see if they are eligible to make deposits online.

How do I open a checking account from the RBFCU Mobile app?

To open a new checking account:

Sign in to the RBFCU Mobile app
Tap "New Account" under Deposit Accounts on the Account Summary page
Verify your address, and tap "Let's get started!" to follow the self-service directions
Banking Calculators
What is it worth to reduce my spending?

How long will it take to save for a purchase?
RBFCU does not charge a fee for the RBFCU Mobile app, but you may be charged for data by your mobile wireless provider.
Apple, the Apple Logo, iPhone and iPad are trademarks of Apple, Inc., registered in the U.S. and other countries.
Google Play, the Google Play logo and Android are trademarks of Google LLC.
Additional qualifications apply to use Mobile Deposit. All deposits, including Mobile Deposits, are subject to the RBFCU Funds Availability Policy. Certain restrictions, including daily and monthly deposit limitations, may apply.
Loans subject to credit approval and rates subject to change. Some restrictions may apply.