Current Cardholder Promotions
Discover all the latest promotions and exclusive offers available for your RBFCU Mastercard®. Check back often to stay updated on the most recent contests, sweepstakes, giveaways and more.
Your next unforgettable adventure could be just one purchase away.*
Use your RBFCU Mastercard to pay when you shop online and for other everyday purchases between January 1 and December 31, 2019, and you could be surprised with a getaway of your choice to Las Vegas, New York, Miami or Honolulu.
Starting your next unforgettable adventure with someone special could be just one purchase away.
*NO PURCHASE NECESSARY. U.S. residents 18+. Debit PIN & Int'l transactions ineligible. Non-ecommerce Mastercard transactions also qualify. Ends 12/31/19. Click here for Official Rules and complete details.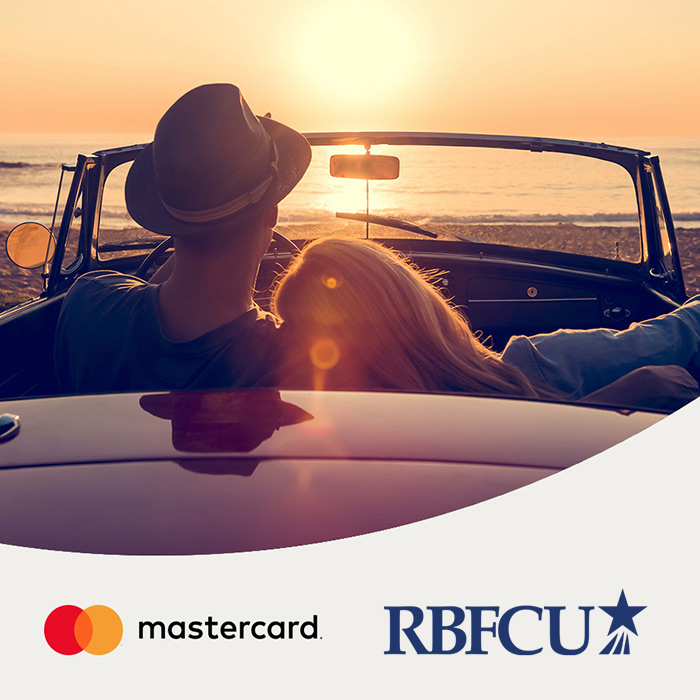 Membership eligibility is required. Credit cards are subject to credit approval. Rates and terms subject to change; other restrictions may apply. These APRs will vary with the market based on the Prime Rate. The 0% Annual Percentage Rate (APR) is a promotional rate for only balance transfers and cash advances made during the first 90 days your account is open. Purchases are not included. Promotional rate balances will remain at 0% APR for twelve full billing cycles starting from the date of the initial balance transfer or cash advance request. Beginning with the thirteenth billing cycle, any remaining balance will be repriced to an APR of % to % for a Premier Rate credit card or % to % for a CashBack Rewards card based on your creditworthiness and other factors. All purchases made during the promotional period and thereafter will be at the previously stated APR ranges for the respective Mastercard products. Contact the Consumer Lending Center for complete details.