Virtual Advisory Center
At RBFCU Investments Group, we're committed to providing you an outstanding client experience. As part of that growing commitment, we've created a dedicated, centralized team of financial advisors to fully support your financial planning needs. With the Virtual Advisory Center, you'll have access to financial advisors who are well prepared to help you reach your financial goals now and in the future.
Our virtual approach starts with tracking your goals online and checking your progress anytime, anywhere. From there, you'll schedule a virtual appointment with your dedicated team to review your goals, analyze your personal timeline and begin to plan for all you want to achieve.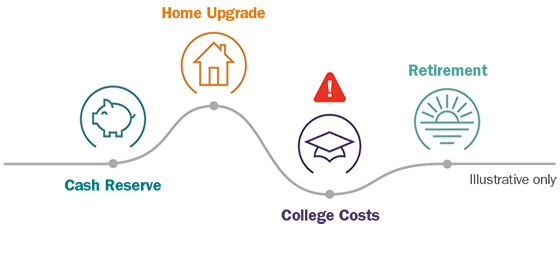 In a few minutes, get a snapshot of your most important financial goal. Answer a few simple questions and see for yourself if you're on the right path.
Pick the financial goal that's most important to you
Answer a few questions about how you save
Get a personalized timeline and see how close you are to reaching your goals
A team of financial advisors are here to help you achieve your financial goals
Once you have entered your goals, you can schedule an appointment online to review your progress with the Virtual Advisory Center, a dedicated team of financial advisors who can provide personalized financial planning and advice.
Interact virtually and check your progress toward your goals
Connect with licensed financial advisors with experience in a wide range of insurance and investment products
Access specialists who are equipped to develop personalized solutions for your more complex needs
Convenience
At any time, from any device, access your investments and accounts, track your progress toward your goals and share information with your financial advisor, safely and securely.
Security
We understand that protecting your assets and identity is important to you. That's why we have safeguards in place to help keep your accounts safe and secure.
Simplicity
It's easy to stay connected with our digital tools, like a mobile app and text message alerts. Enroll in notifications to help you track transactions and alert you when certain actions occur.
Personalized
You'll receive customized financial planning recommendations from your financial advisor or work directly with a dedicated team of financial advisors at Ameriprise Financial.
What is the Virtual Advisory Center?

The RBFCU Investments Group Virtual Advisory Center is a centralized advisor center with a dedicated, virtual team of financial advisors available to help members achieve their financial goals.

Can I meet my virtual financial advisor in person?

Why did RBFCU choose to partner with Ameriprise Financial?

It's always been important to us to serve as advocates for our members and in joining Ameriprise Financial, it's a way to support that goal by having what we believe to be the best possible resources behind us. We believe it's a positive move and brings us access to a wealth of tools, a compelling digital experience, robust product solutions and support to better serve you.

Ameriprise Financial is a financial services firm with a more than 125-year history of strength, stability and putting clients first. Recognized as a leader in the investment industry, our focus is on providing clients personalized, goal-based advice for every stage of life. Visit ameriprise.com to learn more.

What are the benefits of this partnership with Ameriprise Financial?

There are many benefits, including a compelling digital experience. Through personalized advice and digital tools, we can help you define your goals, see your progress, review your investments and plan for the expected and unexpected.

How will I be able to see or access my account information?

The secure site on ameriprise.com offers detailed account information, as well as e-Signature capabilities and e-Delivery of important documents. For on-the-go access, the secure site also has a fully responsive mobile app option.
Have more questions? Contact us:
Investments products are not insured by the FDIC, NCUA or any federal agency, are not deposits or obligations of, or guaranteed by any financial institution, and involve investment risks including possible loss of principal and fluctuation in value.
Ameriprise Financial Services has a partnership with this financial institution to provide financial planning services and solutions to clients. The financial institution is not an investment client of Ameriprise but has a revenue sharing relationship with us that creates a conflict of interest. Details on how we work together can be found on ameriprise.com/sec-disclosure.
Ameriprise Financial cannot guarantee future financial results.
Ameriprise Financial Planning Services are optional, offered separately and priced according to the complexity of your case and your financial advisor's practice fee schedule. Your fees and financial advisor may be subject to change.
Financial planning is generally appropriate if you have financial goals, sufficient assets and income to address your financial goals, and are willing to pay an investment advisory fee for recommendations to help you achieve those goals. Please review the Ameriprise Financial Planning Client Disclosure Brochure or, for a consolidated advisory relationship, the Ameriprise Managed Accounts and Financial Service Disclosure Brochure, for a full description of services offered, including fees and expenses.
RBFCU Investments Group is a financial advisory practice of Ameriprise Financial Services, LLC.
Ameriprise Financial is not affiliated with the financial institution.
Investment advisory products and services are made available through Ameriprise Financial Services, LLC, a registered investment adviser.
Securities offered by Ameriprise Financial Services, LLC. Member FINRA and SIPC.