RBFCU Investments Group Welcomes Terence F. Powell, Jr., AIF® as Investment Program Manager
Powell was drawn to the culture of RBFCU and the investment program's commitment to serving members' unique needs
LIVE OAK, Texas (August 5, 2022) — Terence F. Powell, Jr., AIF® recently became Investment Program Manager at RBFCU Investments Group, a financial advisory practice of Ameriprise Financial Services, LLC. The change comes after the previous program manager, James Herring, was promoted to Vice President of RBFCU Services.
Headquartered in Live Oak, Texas, the investment program comprises 14 financial advisors, who help clients manage approximately $700 million in combined brokerage assets.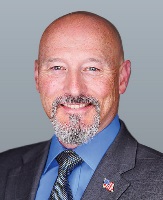 Powell started his career in financial planning in 1996, previously serving in the armed forces with the United States Army. After working directly with investors for over two decades, he now leads the investment program at RBFCU Investments Group. He helps financial professionals build plans and make recommendations with a member-first mindset. His team uses an approach that is designed to get the full picture of client goals, wants and needs to develop a plan.
"My team is trained to focus on a consultative process with service excellence, and to recommend appropriate investment solutions to help clients work toward achieving short and long-term financial goals," Powell said.
Specializing in financial planning, which includes wealth preservation, 401(k) planning for businesses and individuals, tax-advantaged investment strategies and life insurance planning, he's coaching his new team to use a collaborative and holistic approach to help ensure that clients have clearly identified goals and a full understanding of their financial situation. Powell strongly believes that knowing these details is critically important to planning for success along the financial journey.
"Finding the right individual to lead this program was important to us," Herring said. "There is a delicate balance between managing a network of financial advisors and keeping our members' well-being the top priority. With Terence's background weighted heavily at other prominent credit unions across the country, I am more than confident he has the capability to lead our investment program and make a meaningful difference for our credit union members and clients."
About RBFCU Investments Group
Established in 2001, RBFCU Investments Group is a full-service financial advisory program dedicated to helping people achieve their financial goals. The investment program comprises 14 financial advisors, who help clients manage approximately $700 million in combined brokerage assets. RBFCU Investments Group serves more than 8,500 clients at 62 branch locations throughout Texas.
Media Contact
Salvador Guerrero, Assistant Vice President-Communications
sguerrero@rbfcu.org
210-637-4287
Investment products are not insured by the FDIC, NCUA or any federal agency, are not deposits or obligations of, or guaranteed by any financial institution, and involve investment risks including possible loss of principal and fluctuation in value.
Ameriprise Financial Services has a partnership with this financial institution to provide financial planning services and solutions to clients. The financial institution is not an investment client of Ameriprise but has a revenue sharing relationship with us that creates a conflict of interest. Details on how we work together can be found on ameriprise.com/sec-disclosure.
Ameriprise Financial and the financial institution are not affiliated.
Investment advisory products and services are made available through Ameriprise Financial Services, LLC, a registered investment adviser.
Securities offered by Ameriprise Financial Services, LLC. Member FINRA and SIPC.