Zach Crews Promoted to Senior Vice President-Finance at RBFCU
Positive background with regulation, asset liability management experience credited for advancement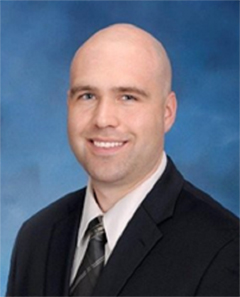 LIVE OAK, Texas (March 4, 2022) — Building on more than 10 years of experience that includes detailed work with federal regulators and multiple roles the past four and a half years at Randolph-Brooks Federal Credit Union, Zach Crews has been promoted to Senior Vice President-Finance at RBFCU.
Mr. Crews started at the credit union in August 2017 as ALM & Investments Director. He was promoted to Assistant Vice President-Finance/ALM & Investments 13 months later. He's been Vice President-Finance/ALM & Capital Planning since July 2020.
"Zach has stepped up to assist RBFCU's mission as the opportunities have presented themselves," RBFCU Executive Vice President/Chief Financial Officer Mark Sekula said. "Not only has Zach's professional achievement included excellent knowledge of how our Finance Department assists and protects our members, he's shown he can lead RBFCU's proven team of accounting and analytical professionals that safeguards our credit union and keeps our organization ready for external review."
Previous to his advancement to SVP, Mr. Crews played a key role in assisting RBFCU to account for and manage rapid growth. RBFCU passed the $10-billion mark in assets in January 2020, and in two years the credit union has reached $15 billion.
Mr. Crews also has met the professional requirements to earn a CFA Charter and CAIA Charter.
Prior to joining RBFCU, Mr. Crews spent time with USAA and also the Federal Reserve in Dallas and Kansas City. The knowledge from those experiences has advanced RBFCU programs around Asset Liability Management and Liquidity and also built the foundation upon which the credit union's Capital Planning process is being developed.
"He intimately knows the special relationships that are unique to a member-serving financial institution and its regulatory expectations," Mr. Sekula said. "He already has played a key role in the higher federal examination demands RBFCU has faced in the more than two years after passing $10 billion in assets."
Zach also served his alma mater at the University of Northern Colorado as Portfolio/Fixed Income Manager for the school's Student and Foundation Fund in 2010-11. He holds a master's in Finance from Creighton University in Omaha, Neb.
About Randolph-Brooks Federal Credit Union
Established in 1952, Randolph-Brooks Federal Credit Union is a full-service financial cooperative whose mission is to improve members' economic well-being and quality of life. With assets exceeding $15 billion, RBFCU serves more than 1 million members at 62 branch locations throughout Texas.
Media Contact
Salvador Guerrero, Assistant Vice President-Communications
sguerrero@rbfcu.org
210-637-4287