RBFCU Opens South San Branch, Expands Footprint in San Antonio Area
New branch name reflects heritage of local neighborhood
LIVE OAK, Texas (Dec. 6, 2021) — Members who have made many visits to RBFCU branches south of downtown San Antonio have a new location to receive service for their accounts. The new RBFCU branch lies in the South San Antonio Independent School District, where the high school is commonly known as "South San." The South San Branch is the 62nd operated by RBFCU.
"Residents near this location love RBFCU, and we want to show them how much we appreciate their belief in our credit union by opening a new branch closer to them," RBFCU Executive Vice President/Chief Operating Officer Sonya McDonald said. "They know RBFCU has always been here for them, and we're happy to make things easier for so many devoted members and to continue to make an impact in their community."
For many years, RBFCU has attracted more new members in this area than any other in the credit union's network.
South San is a long-standing neighborhood that has been home to many who have served at nearby Air Force installations. In recent years, educational opportunities have expanded with the development of Palo Alto College and Texas A&M University at San Antonio.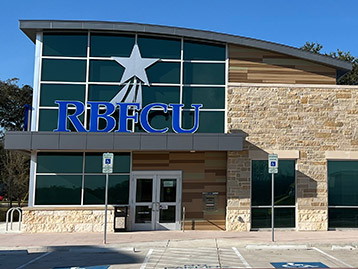 The South San Branch is managed by Assistant Vice President Rose Murillo, who has served members for many years at RBFCU's Mission South Branch. Josh Bailey is her Assistant Branch Manager. This location offers full lobby service and also has teller assistance available through enhanced ATMs in the drive-thru lanes.
Here's the address:
8159 S. IH-35 (at Barlite Blvd.)
San Antonio, TX 78224
RBFCU is the largest credit union in Texas and operates in the areas of San Antonio, Austin, Dallas-Fort Worth and Corpus Christi. Members can also conduct transactions through the Online Banking platform at rbfcu.org and the RBFCU Mobile app.
About Randolph-Brooks Federal Credit Union
Established in 1952, Randolph-Brooks Federal Credit Union is a full-service financial cooperative whose mission is to improve members' economic well-being and quality of life. With assets exceeding $15 billion, RBFCU serves more than 1 million members at 62 branch locations throughout Texas.
Media Contact
Salvador Guerrero, Assistant Vice President-Communications
sguerrero@rbfcu.org
210-637-4287