Munsterteiger Promoted to Enterprise Fraud VP Role
LIVE OAK, Texas (Feb. 3, 2020) — Brian Munsterteiger has been named Vice President of Enterprise Fraud Management at Randolph-Brooks Federal Credit Union (RBFCU).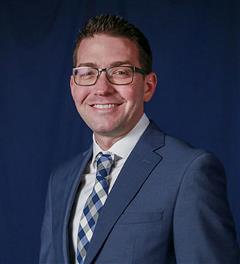 Munsterteiger, who began work at the credit union in April 2003, previously served RBFCU as Assistant Vice President of Payment Services.
In this newly created role, Munsterteiger will be responsible for oversight of all fraud operations at RBFCU. This includes mitigation and identification of potential fraud issues, and analysis and reporting of the credit union's overall fraud prevention management and payment card fraud.
"This is a great opportunity to move all the fraud-prevention operations at RBFCU under one umbrella," Munsterteiger said. "It will improve our communication and more strongly mitigate potential losses that can be caused by fraud."
RBFCU maintains long-standing working relationships with local law enforcement, task forces and federal agencies on issues of fraud and cybersecurity.
"We want to do everything we can to maintain members' trust and give them the feeling that their assets are protected here at RBFCU," Munsterteiger said. "The synergy that will be gained by the merging of existing fraud departments will benefit the credit union and our members."
He earned a bachelor's in Business Management from the University of Texas at San Antonio in 2013. He also has an Accredited ACH Professional (AAP) certification.
About Randolph-Brooks Federal Credit Union
Established in 1952, Randolph-Brooks Federal Credit Union is a full-service financial cooperative whose mission is to improve members' economic well-being and quality of life. With assets exceeding $15 billion, RBFCU serves more than 1 million members at 62 branch locations throughout Texas.
Media Contact
Salvador Guerrero, Assistant Vice President-Communications
sguerrero@rbfcu.org
210-637-4287