RBFCU Promotes Ashley Ingle to Senior Vice President of Human Resources/Learning & Development
LIVE OAK, Texas (July 24, 2020) — RBFCU is announcing the promotion of Ashley Ingle to Senior Vice President of Human Resources/Learning and Development. Ingle, who will celebrate her 20th anniversary with RBFCU next year, has served as Vice President in HR since 2012.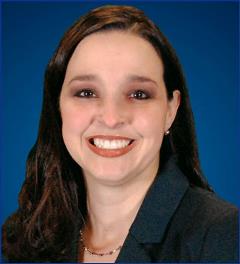 "Since being in the role overseeing our HR and Learning and Development, Ashley has helped to formalize our management development track and, this year, quickly shifted our focus to developing online learning," RBFCU Executive Vice President/Chief Financial Officer Mark Sekula said. "She helped lead the implementation of our online HR management solution and was a key component in the implementation of the health clinic in our Administrative Service Center as well as the expansion of our overall wellness program."
Ingle joined RBFCU in February 2001 as part of the team hired to open the Oak Run Branch in New Braunfels. She began an internship with the HR Department by the end of the year. She worked in Recruitment and Payroll prior to becoming the HR Manager in 2010.
After receiving a bachelor's degree from Texas State University, Ingle earned a master's degree in business administration. She holds two HR certifications.
"Ashley's work is extensive at RBFCU, and what she does for our credit union has a direct impact on the outstanding service we provide to our members every day," Sekula said. "RBFCU is well-known as an outstanding workplace, which has been recognized by several publications including the Austin Business Journal, Austin American-Statesman, Forbes Magazine, San Antonio Business Journal, San Antonio Express-News and Texas Monthly."
Ingle currently oversee recruitment, benefits, compensation, employee relations, payroll and Learning and Development. She also co-chairs the Sales and Service Committee, is the secretary on the RBFCU Foundation Board and is on the management panel of the newly created RBFCU Diversity Advisory Council.
About Randolph-Brooks Federal Credit Union
Established in 1952, Randolph-Brooks Federal Credit Union is a full-service financial cooperative whose mission is to improve members' economic well-being and quality of life. With assets exceeding $15 billion, RBFCU serves more than 1 million members at 62 branch locations throughout Texas.
Media Contact
Salvador Guerrero, Assistant Vice President-Communications
sguerrero@rbfcu.org
210-637-4287