RBFCU Named as a Top Workplace USA
Employee comments and feedback qualify RBFCU for national recognition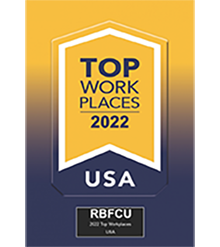 LIVE OAK, Texas (Feb. 11, 2022) — Organizers of the Top Workplaces program have again recognized Randolph-Brooks Federal Credit Union (RBFCU) for excellence in work environment and teamwork. RBFCU is a "Top Workplace USA" for 2022 according to employee-engagement company Energage.
This is the third time in less than a calendar year that RBFCU has been listed as a Top Workplace by Energage. Based on responses and results from Energage's anonymous, research-based employee engagement survey, Energage evaluated data from the anonymous surveys to make its decisions and award RBFCU as a Top Workplace through the San Antonio Express-News and Austin American-Statesman in 2021.
"We are so grateful that our employees recognize the importance of their jobs and how their roles are integral to our mission of doing everything we can to help our members," RBFCU President/CEO Christopher W. O'Connor said. "In the past seven years, we've doubled our membership to over 1 million and know that this has only been achievable through the efforts of our staff."
RBFCU was listed 38th in the top 50 from the category of companies with 1,000 to 2,499 employees (second largest employee category). This year, more than 1,100 companies across four size categories were recognized as 2022 Top Workplaces USA national winners.
Other publications to recognize RBFCU's culture within the past three years include Forbes, Texas Monthly, Austin Business Journal and San Antonio Business Journal.
RBFCU has been named in Top Workplaces through the San Antonio Express-News for 10-straight years and the Austin American-Statesman four-straight years. This is the first year to be recognized in Top Workplaces USA.
Energage describes itself as a technology company that empowers workplace excellence: "The employer recognition program recognizes organizations across the country that have built exceptional workplace cultures."
To read more about Top Workplaces, click here.
To read the Top Workplace presentation of RBFCU, click here.
About Randolph-Brooks Federal Credit Union
Established in 1952, Randolph-Brooks Federal Credit Union is a full-service financial cooperative whose mission is to improve members' economic well-being and quality of life. With assets exceeding $15 billion, RBFCU serves more than 1 million members at 62 branch locations throughout Texas.
Media Contact
Salvador Guerrero, Assistant Vice President-Communications
sguerrero@rbfcu.org
210-637-4287