RBFCU Investments Group Welcomes Roger Torres, AAMS® as Financial Advisor
Torres shares the company's commitment to advancing RBFCU members' financial goals
LIVE OAK, Texas (May 26, 2023) — Roger Torres, AAMS®, recently became a Financial Advisor at RBFCU Investments Group, a financial advisory practice of Ameriprise Financial Services, LLC.
Headquartered in Live Oak, Texas, the investment program comprises 17 financial advisors, who help clients manage approximately $800 million in combined brokerage assets.
A native of Del Rio, Texas, Torres has almost two decades of financial services experience and earned an AAMS® (Accredited Asset Management Specialist) certification in 2021. Although he enjoys working with clients at every life stage, he focuses primarily on working with young families, supporting individuals nearing retirement and providing guidance to business owners seeking corporate retirement plans.
As an RBFCU Investments Group financial advisor, Torres is now part of a growing financial program that serves credit union members and beyond. In his new role, he'll support RBFCU branches in the San Antonio region to include Austin Highway, Broadway, Northcliffe and Woodlake.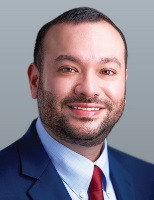 "Helping people and families take control of their financial futures and deepen their understanding of how to grow wealth is the reason I went into this line of work," Torres said. "For me, there's no better feeling than witnessing a client reach important milestones in their life or savings goals knowing that I've contributed to their personal success."
"It was clear from our first meeting that Roger is a person who operates with integrity and has the best interests of his clients in mind," said Terence F. Powell, Jr. AIF®, Investment Program Manager at RBFCU Investments Group. "His experience and technical knowledge are extensive, and equally important is his desire to get to know his clients and build a relationship while working toward the goal of financial success."
"I'm excited to join this financial services team because they demonstrate the same values I hold dear," Torres said. "This natural alignment between the team and myself has helped my transition go smoothly, and I'm excited to see what happens next."
A graduate of The University of Texas at San Antonio with a major in business administration and a finance minor, Torres holds his Series 7 and 66 licenses as well as a Texas Life and Health insurance license.
About RBFCU Investments Group
Established in 2001, RBFCU Investments Group is a full-service financial advisory program dedicated to helping people achieve their financial goals. The investment program comprises 17 financial advisors, who help clients manage approximately $800 million in combined brokerage assets. RBFCU Investments Group serves more than 6,000 clients at 62 branch locations throughout Texas.
Media Contact
Salvador Guerrero, Assistant Vice President-Communications
sguerrero@rbfcu.org
210-637-4287
Investment products are not insured by the FDIC, NCUA or any federal agency, are not deposits or obligations of, or guaranteed by any financial institution, and involve investment risks including possible loss of principal and fluctuation in value.
Ameriprise Financial Services has a partnership with this financial institution to provide financial planning services and solutions to clients. The financial institution is not an investment client of Ameriprise but has a revenue sharing relationship with us that creates a conflict of interest. Details on how we work together can be found on ameriprise.com/sec-disclosure.
Ameriprise Financial cannot guarantee future financial results.
Ameriprise Financial and the financial institution are not affiliated.
Investment advisory products and services are made available through Ameriprise Financial Services, LLC, a registered investment adviser.
Securities offered by Ameriprise Financial Services, LLC. Member FINRA and SIPC.