RBFCU Establishes Diversity Advisory Council, Selects 11 Employees to Serve
Employees head the effort to improve diversity, equity and inclusion at the credit union
LIVE OAK, Texas (Sept. 17, 2020) — Randolph-Brooks Federal Credit Union has selected 11 employees to serve on its inaugural Diversity Advisory Council (DAC), who are tasked with advancing RBFCU's commitment to diversity and inclusion.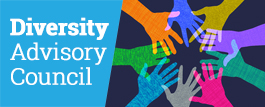 The council has been challenged with the goal of continuing to bring diversity to our employee base, and preserving our commitment to do the right thing by our membership and the communities we serve.
"If you look at the history of credit unions, they were set up to help people who were disadvantaged in some way," RBFCU President and Chief Executive Officer Christopher O'Connor said. "So we believe the RBFCU Diversity Advisory Council follows in that tradition. We want everyone associated with RBFCU to enjoy the advantages of a diverse and inclusive work environment.
"This effort starts from within our credit union, with our employees, who showed so much eagerness to meet the call and bring their ideas to do something that will improve the credit union movement."
After weeks of accepting applications from interested employees, the council members were selected based on their backgrounds and essays describing their willingness to contribute to diversity and inclusion at the credit union.
Here are the 11 employee volunteer members of the RBFCU Diversity Advisory Council:
Angelica Castillo Melendez (Member Service Specialist, Seguin Branch)
Ashok Buch (VMS Specialist, Central Operations)
Aziz Ali (RMA Support Specialist, Remote Member Assistance)
Casey Russell (IT Business/QA Analyst, Web Development)
Erica Ellis (Lending Compliance Officer, Lending)
Jessica Owens (Member Service Specialist, Cedar Park Branch)
Jose L. Garcia (Business Services Manager, Business Services)
Justin Steinle (Regulatory Compliance Officer, Risk and Regulatory Compliance)
Kaitlin Fuentes (Records and Research Senior Specialist, Records and Research)
Vashyon Jackson (Assistant Vice President/Branch Manager, DNT Eldorado Branch)
Yong Milam (Regional Vice President, Branch Operations)
Board of Directors member Barbara Heyward, Executive Vice President/Chief Operating Officer Sonya McDonald, Senior Vice President of Human Resources-Learning and Development Ashley Ingle, Vice President-General Counsel Amy Davis, Assistant Vice President-Communications Salvador Guerrero and Human Resources Manager Janine Cox will serve as employee advisors to the council as needed.
"We received really good submissions from our employees, and they'll represent all of our more than 2,000 employees in helping us make better decisions to improve diversity efforts at Randolph-Brooks," McDonald said. "We had so many great applicants and enthusiasm for this that we announced 11 employees rather than the nine we originally had planned.
"We recognized that we wanted to have a diverse council. We have different age groups represented. We have different ethnicities, we have men and women, we have people from different regional service areas and we have management and those not in management. The goal was to get a good cross section to represent everyone at Randolph-Brooks, and for them to listen to the concerns and ideas from the employees around them and help figure out ways improve our diversity efforts at RBFCU."
McDonald added that the Diversity Advisory Council will achieve its aims through conversations, listening, honesty, acknowledgement, awareness and education. Our credit union's actions matter, she said, and the RBFCU Diversity Advisory Council will give us a deep look at ourselves to find out how we can do the right thing and define what that means for us moving forward as other avenues can be identified.
About Randolph-Brooks Federal Credit Union
Established in 1952, Randolph-Brooks Federal Credit Union is a full-service financial cooperative whose mission is to improve members' economic well-being and quality of life. With assets exceeding $15 billion, RBFCU serves more than 1 million members at 62 branch locations throughout Texas.
Media Contact
Salvador Guerrero, Assistant Vice President-Communications
sguerrero@rbfcu.org
210-637-4287