Let's Count the Ways to Save: Money Market Accounts
When people hear the words "money market," the first things that might come to mind are Wall Street, investments, and complicated, confusing rates. Don't get money markets mixed up with any of that high finance terminology. The truth is, money markets are an easy, straightforward and solid investment choice.
RBFCU makes saving easy, and that's the case with money markets. The higher investment levels of money markets open up higher rates of return than a standard savings account yet none of the risks associated with stocks-and-bonds. Plus, money market returns are guaranteed.
Just like savings accounts and certificate accounts, money markets at RBFCU are federally insured by the National Credit Union Administration (NCUA) up to $250,000 per depositor. Here are some features of money market accounts available at a credit union like RBFCU:
Options. RBFCU offers two money markets. Each require at least $2,500 to open and at least $2,500 must remain in the account for it to remain open (it will convert to a standard savings account).

The Classic Money Market offers one, flat, simple rate no matter the amount that's invested.
The Choice Money Market offers tiered rates of return depending on how much is invested. It gives higher rates of return for lower levels of investment.

Flexibility. A money market is more like a savings account in that you enjoy immediate access to your money.1 It's unlike a certificate account, which requires the investor to keep funds in the account for an agreed amount of time or pay possible penalties for early withdrawal.
DepositAccounts.com refers to money market accounts as a great risk-free option for beginning investors. Savings instruments like money market accounts also are a great place to put money when people are in between investments.
Saving is easy!
The Growth of Money in a Money Market Account
The first image shows an example of an RBFCU Choice Money Market account with $2,500 invested for 12 months with the example of a 1.11% APY.
The second image shows an example of an RBFCU Classic Money Market account with $2,500 invested for 12 months with the example of a 0.50% APY.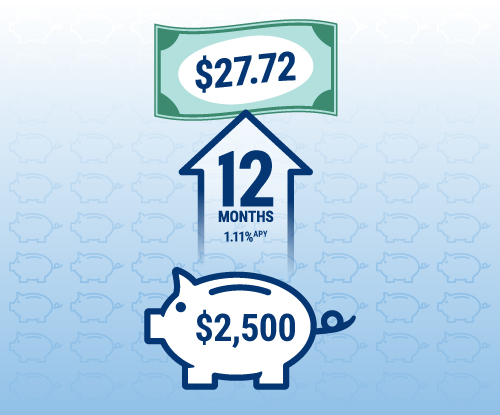 1You can complete as many transfers as you like each month in person, but federal regulations limit the number of "convenience" (not in person) transfers from savings or money markets to six monthly. After the sixth transfer, the item presented to pay from the savings or money market account is an EFT/ACH, it may be paid as exception, but a fee will be charged. If the item is presented against the checking account and you have set up the savings as overdraft protection, the checking account item maybe returned unpaid or paid using Courtesy Pay (must be opted in).
Federally insured by NCUA. Membership eligibility required. Program subject to change without notice.
Information in this article is general in nature and for your consideration, not as financial advice. Please contact your own financial professionals regarding your specific needs before taking any action based upon this information.