Let's Count the Ways to Save: Advantages of Savings Accounts
Credit unions like RBFCU offer many different savings options to help you meet your financial goals. It can start with something as simple as a savings account. Let's count the ways savings accounts are simple, no fuss and effective:
Savings accounts take as little as $1 to open
Savings accounts offer a reliable return on your investment, and
Savings accounts can protect you against overdrafts in your checking account with automatic transfers.
While U.S. News & World Report notes savings accounts may not be glamorous, they should not be overlooked and should be a part of your financial plans. There are a number of advantages of putting your money into a savings account.
Savings accounts are insured: RBFCU savings accounts are federally insured by the National Credit Union Administration (NCUA) up to $250,000. That's the same amount the FDIC insures savings accounts at banks. If you were to put that same money into a stock, bond, precious metal or cryptocurrency, it's possible to lose your entire investment with no one legally bound to insure you and cover losses.
Savings accounts are low-risk: When the stock market tanks (remember the 40-percent drop in the S&P 500 in 2008), savings accounts still make money. A savings account is a great place for money that you cannot afford to lose.
Savings accounts keep your money available: It could take you a few days, or longer, to get your money out of other investments. As long as you draw funds from your savings through an ATM or through a teller at a branch, you have unlimited access to money in your savings account (Federal Reserve Board regulations limit monthly transactions through other withdrawal methods).
Consider a savings account. The money you earn from the interest your account accrues is called a dividend. To figure out the dividend, you'll need to know how much money is in your account and what the APY is (the Annual Percentage Yield). The credit union will take the account balance and multiply it by 1 plus the APY (let's say it's .25%). If you had $1,000 in the account at the start of a 12-month period and you made no other deposits or any withdrawals, it would be $1,000 X 1.025. That's $1,002.50 at the end of the 12 months.
The Growth of Money in a Savings Account
The first image shows a savings account with $1,000 invested for 12 months with a 0.25% APY.
Power Up! The second image shows how your savings grows by adding $25 per month to your initial $1,000 investment over 12 months with a 0.25% APY.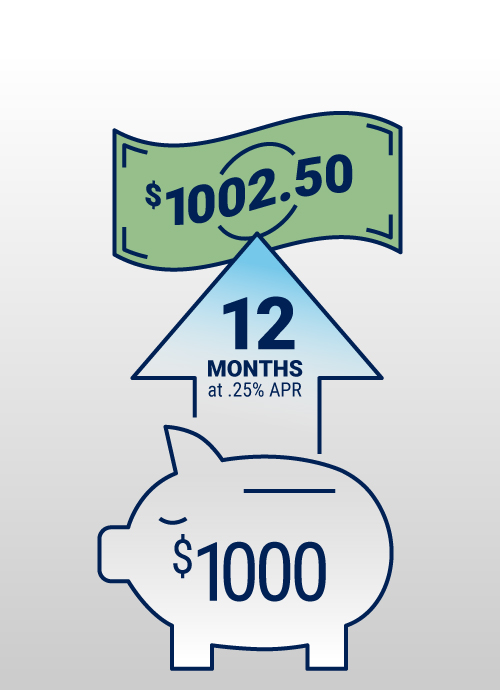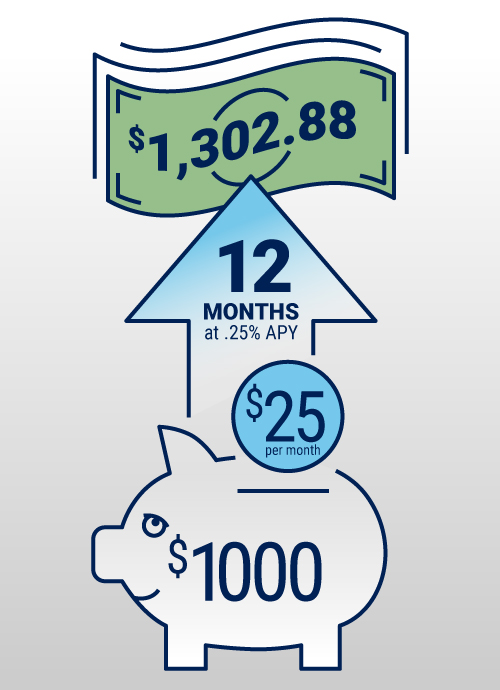 Information in this article is general in nature and for your consideration, not as financial advice. Please contact your own financial professionals regarding your specific needs before taking any action based upon this information.