RBFCU Wealth Management Welcomes The Garner Davis Group
Experienced Financial Advisors and Managing Partners Wes Garner, CRPC®, APMA® and Bethany Davis lead the new team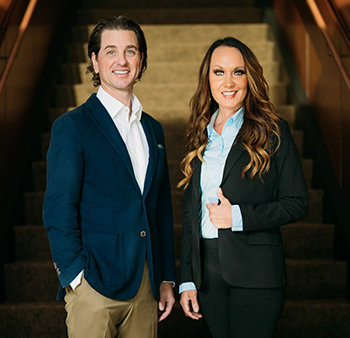 LIVE OAK, Texas (Sept. 26, 2023) — The Garner Davis Group recently joined RBFCU Wealth Management, a financial advisory practice of Ameriprise Financial Services, LLC. The team is led by Financial Advisors and Managing Partners Wes Garner, CRPC®, APMA ® and Bethany Davis. Together, they have over 39 years of financial services experience.
Through RBFCU Wealth Management, Garner and Davis will help individuals and families with their personal and professional wealth management as clients seek to deepen their knowledge, simplify complicated processes, manage risks, make the most of their resources and enhance their desire to realize overall financial wellness.
"We help people identify the pitfalls that can threaten financial well-being and place a focus on building areas of financial strength through a proprietary planning and investment management process," Garner said. "However, the work we do isn't just about tax strategies, markets and inflation. It's about building relationships with our clients as we help them plan their lives to reflect what matters most to them."
Garner added that the team is experienced at helping "successful professionals and business owners who aspire to have 'work optional' lifestyles. Over the last two decades, Bethany and I have developed and refined a process that helps pull together every piece of the puzzle as our clients' busy personal and professional lives unfold and their needs evolve. Through regular reviews of their portfolios coupled with in-depth conversations about their options, we've watched our clients define their risks and resources better and grow more trust and confidence in their financial decision-making skills."
"Because our wealth management approach integrates well with other respected professionals in legal, tax and estate planning," Davis added, "we are able to help individuals and families incorporate those important insights into their plans. But the real draw for our clients? It's our personal service, rigorous attention to detail and assurance of privacy."
"With the arrival of The Garner Davis Group, we'll expand significantly the depth and breadth of support we provide via RBFCU Wealth Management to clients who have achieved high net-worth, especially those individuals who value discrete, personalized service," said Edward Bronnenberg, Senior Vice President of CUSO Operations for RBFCU and RBFCU Services. "Wes and Bethany are uniquely positioned to help our existing and new members make more thoughtful, well-informed decisions about their assets while also advancing personal and professional goals."
Garner's financial services credentials include a Chartered Retirement Planning Counselor (CRPC®) and Security Industry Essentials (SIE) licenses as well as Financial Industry Regulatory Authority (FINRA) Series 7, 24, 63 and 65 licenses. Davis holds certifications in General Lines — Life, Accident and HMO through the Texas Department of Insurance as well as FINRA Series 7 and 66 licenses.
About RBFCU Wealth Management
Partnering with RBFCU — the largest credit union in Texas with more than $16 billion in total assets, RBFCU Wealth Management, a division of RBFCU Investments Group LLC, collectively helps clients manage approximately $800 million in combined brokerage assets.
Founded in 2016, RBFCU Wealth Management is a financial advisory practice of Ameriprise Financial Services, LLC.
Media Contact
Salvador Guerrero, Assistant Vice President-Communications
sguerrero@rbfcu.org
210-637-4287
Investment products are not insured by the FDIC, NCUA or any federal agency, are not deposits or obligations of, or guaranteed by any financial institution, and involve investment risks including possible loss of principal and fluctuation in value.
Ameriprise Financial Services has a partnership with this financial institution to provide financial planning services and solutions to clients. The financial institution is not an investment client of Ameriprise but has a revenue sharing relationship with us that creates a conflict of interest. Details on how we work together can be found on ameriprise.com/sec-disclosure.
RBFCU Investments Group is a financial advisory practice of Ameriprise Financial Services, LLC.
RBFCU Wealth Management, The Garner Davis Group is a financial advisory practice of Ameriprise Financial Services, LLC.
RBFCU Wealth Management is a division of RBFCU Investments Group LLC.
Ameriprise Financial, Inc. and its affiliates do not offer tax or legal advice. Consumers should consult with their tax advisor or attorney regarding their specific situation.
Investment advisory products and services are made available through Ameriprise Financial Services, LLC, a registered investment adviser.
Securities offered by Ameriprise Financial Services, LLC. Member FINRA and SIPC.