Completion of IKEA-RBFCU Parkway Celebrated
LIVE OAK, Texas (Jan. 31, 2019) – An atmosphere of civic cooperation and economic growth was evident when the completion of IKEA-RBFCU Parkway was celebrated at the new Live Oak Town Center. The new thoroughfare not only will provide access between Randolph-Brooks Federal Credit Union (RBFCU) and the new IKEA Home Furnishings Store, it will cut through the middle of the Live Oak Town Center as the development continues to add shops and venues during the coming months.
The completion of the new street was marked by an evening ceremony when developers from The Weitzman Group illuminated a set of decorative pillars at various locations of the property.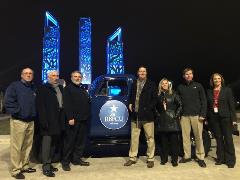 "This is our chance to thank the very supportive leaders from the City of Live Oak and our construction partners, as well as our neighbors at RBFCU," said Michael Schoenbrun, a partner with The Weitzman Group. "Everyone has been wonderful, and this project would not have happened without your work and you cheerleading for us."
IKEA, a more than 250,000-square feet retail giant, opens at Live Oak Town Center in February. The IKEA-RBFCU Parkway (formerly RBFCU Parkway) will open for traffic shortly beforehand. It will provide access from the north of the property at Loop 1604 and from the south at Interstate 35.
"We've been happy to cooperate with the City of Live Oak and the partners at The Weitzman Group," RBFCU Executive Vice President and Chief of Staff Mary O'Rourke said. "Their hard work and perseverance for more than 10 years to get the project to this point is admirable. All of us at the credit union are excited to see what they have delivered right next door to us – a world-class center of retail, dining and entertainment."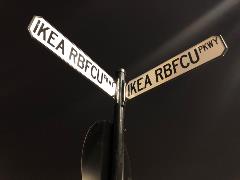 Others officials from RBFCU who represented the credit union at the event were Executive Vice President and Chief Lending Officer Robert Zearfoss and Senior Vice Presidents Sarah O'Brien and Victor Williams.
Mr. Schoenbrun said more construction will start after the IKEA opening. Once the 112-acre property is fully developed, establishments will include retail, dining, entertainment, fitness and lodging options.
About RBFCU
Established in 1952, Randolph-Brooks Federal Credit Union is a full-service financial cooperative whose mission is to improve members' economic well-being and quality of life. With assets exceeding $9 billion, RBFCU serves more than 750,000 members from more than 55 branch locations throughout Texas.
Media Contact
Salvador Guerrero, RBFCU Communications Manager
sguerrero@rbfcu.org
210-637-4287