RBFCU Presents $10,000 Through Mastercard® Sweepstakes
LIVE OAK, Texas (May 17, 2019) — Another RBFCU member has become a lucky winner, just for using a Mastercard credit card. Brian Phelt has been presented with a $10,000 check as a winner of the Mastercard Priceless Surprises Small Business Sweepstakes.
Through its long partnership with Mastercard, RBFCU presents cash or prizes four times a year to a credit union member as a sweepstakes winner. To qualify, a member receives one sweepstakes entry for each Mastercard purchase transaction during a set period.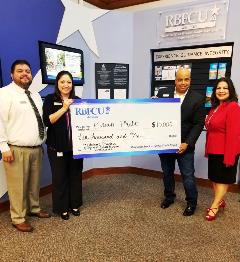 Mr. Phelt carries the RBFCU Business Select Mastercard credit card for purchases made on behalf of the small businesses he owns. This card allows a business owner to collect 2% cash back from each purchase, not to mention the chance at a $10,000 cash prize.
"This is wonderful," Mr. Phelt said. "Though I didn't even know I was entered into this sweepstakes – I was quite surprised I won – I am very grateful and happy to be a member of RBFCU."
Mr. Phelt said he will use the funds to put back into his businesses, with plans to continue to grow and hire more people.
Mr. Phelt chose to collect his $10,000 check at RBFCU's Gold Canyon Branch in San Antonio.
"My father served in the armed forces; he was an RBFCU member and he always went to Gold Canyon," Mr. Phelt said. "That's where I handle my personal accounts. The people there know me. They treat me very well."
The RBFCU Business Select Mastercard credit card is currently rated as "Best Business Reward Credit Card from a Credit Union" by CardRates.com because it "…offers better (interest) rates and fees than your typical big-bank credit card issuer." CardRates.com is a leading credit-card comparison and financial news site.
"We're proud of the RBFCU Business Select Mastercard credit card because of all the award-winning features that come with it," RBFCU Vice President-Payment Services Deana Bartel said. "To know that the loyal users of this card have the chance to win a $10,000 prize is a great added bonus that we are happy to offer to our members through Mastercard. Congratulations to Mr. Phelt!"
About Randolph-Brooks Federal Credit Union
Established in 1952, Randolph-Brooks Federal Credit Union is a full-service financial cooperative whose mission is to improve members' economic well-being and quality of life. With assets exceeding $15 billion, RBFCU serves more than 1 million members at 62 branch locations throughout Texas.
Media Contact
Salvador Guerrero, Assistant Vice President-Communications
sguerrero@rbfcu.org
210-637-4287