RBFCU Awards More Than $5,000 in Scholarships to San Antonio-area Students
LIVE OAK, Texas (May 21, 2019) — Randolph-Brooks Federal Credit Union awarded $5,450 in scholarships to 11 students in the San Antonio area last week. These scholarships were awarded as part of the Youth Advisory Council, a program that encourages financial awareness and confidence.
Students were selected based on their performance in the program, which included attending RBFCU events, making financial education presentations, creating video projects, and more.
"The Youth Advisory Council was established to help encourage our future community leaders to be confident in their financial decisions and well-being", said Jennifer Crawford, Senior Financial Literacy Specialist at RBFCU. "This is also a great opportunity for the credit union to give back to the community and help give these students a head start as they move forward in their academic careers."
The Youth Advisory Council program provides students ages 16-22 an opportunity to learn how a financial institution operates, participate in community service activities, and earn educational scholarships. The program is in its ninth year and is led by the credit union's Financial Education Team.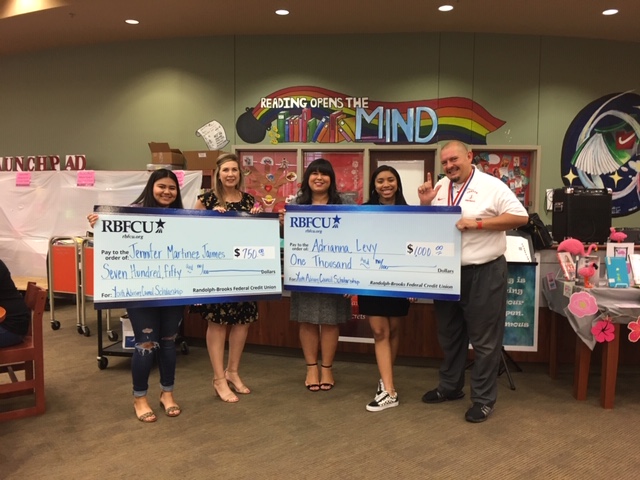 Adriana Levy, a senior at Judson High School, and Vianca Ortiz, a senior at East Central High School, were the top scholarship recipients for the 2018-19 school year. The following is a complete list of students who were awarded scholarships for their efforts in the Youth Advisory Council program: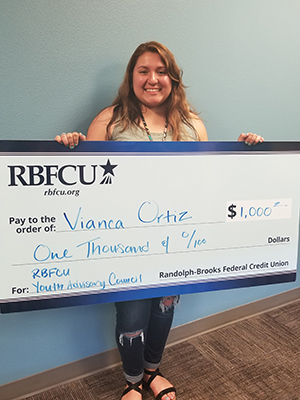 Top Recipients:
Judson High School: Adrianna Levy (Senior) and Jennifer Martinez Jaimes (Senior)
East Central High School: Vianca Ortiz (Senior)
Judson Early College Academy: Sierra Trapolsi (Junior) and Josiah Hawkins (Junior)
Additional Winners:
Judson High School: Ruben Liggins and Aracely Alarcon
East Central High School: Briana Rios
Johnson High School: Surya Kaza
Marshall High School: Andrea Bosquez
San Antonio College: Elexus Liggins
About RBFCU
Established in 1952, Randolph-Brooks Federal Credit Union is a full-service financial cooperative whose mission is to improve members' economic well-being and quality of life. With assets exceeding $9.2 billion, RBFCU serves nearly 800,000 members from more than 60 branch locations throughout Texas.
Media Contact
Salvador Guerrero, RBFCU Communications Manager
sguerrero@rbfcu.org
210-637-4287