Really Free Checking
Earn cash back — every time
An RBFCU debit card and checking account gives you more when it comes to your money.
A cash back debit card gives you real purchasing power: no monthly maintenance fee, no minimum balance requirement and 10 cents in cash back rewards on every debit card purchase!
10 cents cash back with every debit card purchase
Easy, convenient mobile access for transfers, account review and more
No monthly maintenance or minimum balance fees
Freedom Debit Card
With this free checking account, you'll also have access to additional benefits that help you save time, save money and earn money, including:
Minimum opening deposit for an account is $0
24/7 fraud monitoring and $0 liability of debit card purchases
Free online bill pay
Earn interest/dividends monthly
Masterpass, Apple Pay, Samsung Pay and Microsoft Wallet compatibility for an added layer of protection
Free standard checks when ordered online
Surcharge-free cash back options through RBFCU ATMs, the CO-OP network and point-of-sale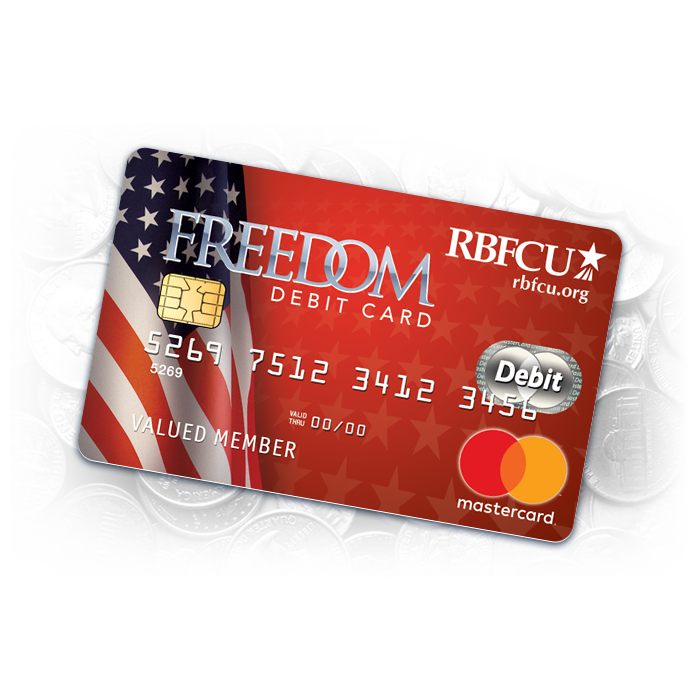 "This account is by far the best I've ever had. The cash-back rewards, ease of using the mobile app and member service is outstanding."
FAQs
What is RBFCU's checking account routing number?

RBFCU's routing number is 314089681.

How do I use my chip card at chip-enabled terminals?

To use a chip-enabled terminal, the cardholder will insert their card into the bottom of the terminal and follow the prompts on the screen. The terminal will read the information contained in the chip, making sure the card is valid and authenticating it more securely.

Here's the step-by-step process:

Insert card: Instead of swiping, you will insert your card into the terminal, chip first, face up.
Leave the card in the terminal: The card must remain in the terminal during the entire transaction.
Follow the instructions on the screen: It may or may not ask for your PIN.
Remove your card: When the purchase is complete, take your card.

How do I download the RBFCU Mobile app?

RBFCU offers a FREE mobile application for both Android and iPhone devices.

For Android devices: Select the Play Store, search for RBFCU and download the app.
For iOS (Apple) devices: Select the App Store, search for RBFCU and download the app.

For full functionality, both the provider's software and RBFCU app version must be up to date.

Can I open a checking account from the mobile app?

Yes, members can open checking accounts via the app. Log in using your credentials, then choose "Open Account" from the menu. From there, you can complete the application in just a few simple steps.

I lost my card. What do I do?

To report a lost or stolen debit card, log in to your online banking account or the RBFCU Mobile app and choose "Manage Cards." From this screen, you can report your card as lost or stolen.

Alternatively, you can call our Member Service Center.

To report a lost or stolen credit card, contact our card servicing agent (1-866-317-0355 in the U.S. or 1-727-570-4881 internationally).
Membership eligibility is required. Programs subject to change; other restrictions may apply. The credit union reserves the right to determine if transactions processed under the 10 cents cash back program are usual and customary and to restrict privileges/accrued rewards.