Samsung Pay
Samsung Pay is now available for your RBFCU Freedom Check Card and MasterCard credit card purchases! The mobile payment service offers RBFCU members a secure and safe way to make purchases with their debit card, while still enjoying 10¢ cash back with every purchase!
Samsung Pay can be used almost anywhere — at traditional magnetic stripe terminals, or tap your device at a new contactless payment terminal.
Samsung Pay Requirements
A compatible device such as a Samsung Galaxy S6, S6 edge, S6 edge+ or Note5
A Samsung account
Registered fingerprint or Pay PIN
United States as your selected region
It's secure!
Several layers of security features, including fingerprint authorization and built-in technology that monitors for signs of malicious behavior or vulnerabilities, ensure members can swipe or tap with confidence. Additionally, Samsung never stores or shares sensitive information or card numbers on the device or on their servers. Instead, an encrypted security code authorizes every purchase for added security and privacy.
Adding a Card to Samsung Pay
To add your RBFCU debit card, from the Home screen go into Apps > Samsung Pay, and select "Add Card." From there, use your camera to enter the card information or type it in manually. You can add as many as ten cards to use in the app.
Using Samsung Pay
Samsung Pay is accepted almost anywhere you can tap or swipe your device.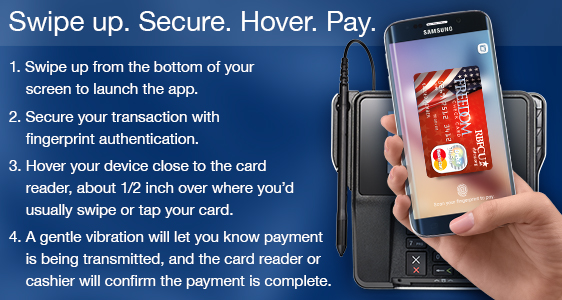 For more information, visit the Samsung Pay FAQ page.