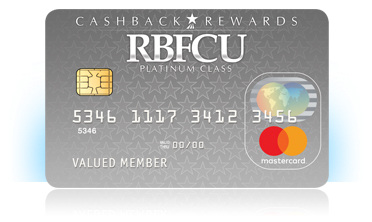 Our Platinum CashBack Rewards MasterCard card puts money back into your pocket with our 3-2-1 rewards program. Earn up to 3% on gas, up to 2% at restaurants and up to 1% on all other purchases. Plus, you can cash out your rewards any time you need them!
As an RBFCU Platinum Class MasterCard credit card user, you won't pay an annual fee and you'll receive a multitude of other enhancements, like fraud protection, discounts and other perks, including:
The Platinum CashBack Rewards MasterCard also offers:

Competitive rate as low as 10.65% APR
25-day grace period on purchases
$0 fraud liability/24-7 fraud monitoring
$1 million in travel accident insurance
MasterRental™ Insurance
International acceptance
Learn more about our rates and fees
View Platinum Cashback Rewards agreement and disclosures
Apply for a Platinum Cashback Rewards MasterCard today!